Club Membership Packages – Why you should have them.
Annual membership packages are the norm in many sports. This helps clubs to know which players are committing to them for a season and amass some funds to help pay for competition entry up-front, meaning no one individual is out of pocket until their members pay them back. Membership packages can also benefit members too – clubs can offer a whole host of benefits including discounted sessions and socials, playing kit, support and merchandise. To help your club form your own membership offer, we have taken some examples that already exist within dodgeball.
Stafford Raptors
Stafford offer their players kit and training subsidies alongside a range of other benefits. This costs £20 per year, payable at the start of the season. Players can sign up by using information on their website.
Eden Dodgeball Club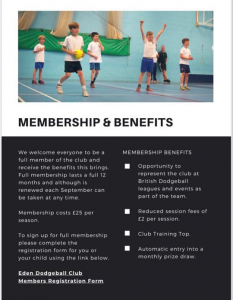 Eden Dodgeball Club offers their members reduced session fees, the opportunity to play in competitions, a training top and entry into a prize draw. They also offer members the chance to sign up to become British Dodgeball members in addition to club membership. People can sign up using the membership form here.
Manchester Bees
Manchester Bees have two types of membership depending on the year:
Merchandise membership where players that sign up receives free merchandise or
discounted merchandise.
Kit membership which lets players buy kit along with their membership at the start of the
year if a new kit has been released.
They try to keep the cost consistent at approximately £50 and aim to make approximately £5-£10 income per member to subsidise competition fees. Players also receive further benefits such as access to the Bees' members-only session, discounted sessions and socials and automatic British Dodgeball membership. Due to the coronavirus situation, Manchester Bees club membership has been delayed but will be available soon.
Offering British Dodgeball membership
Unlike many other sports which demand all players purchase membership before being allowed to compete, we offer players the choice to support British Dodgeball by signing up for British Dodgeball Membership. The money goes towards projects and supporting the organisation. In return, BD members get discounts on a variety of items, a monthly member's blog updating you on everything we do and the chance to steer the direction that we develop the sport. For example, our August BD members have the chance to vote for one of four projects which we put £10,000 towards.
Some of our clubs like Manchester Bees support us by giving their members the option to sign up for BD membership for free as part of their membership package. If you want to do this, you can email accounts@britishdodgeball.com and arrange for a 100% discount code to be made for your club – we will invoice your club when your members sign up using it.
Hopefully you find these ideas useful. If you plan to offer a club membership package and need some further guidance, then email aden@britishdodgeball.com who can provide assistance. Let us know how you get on!
British Dodgeball.