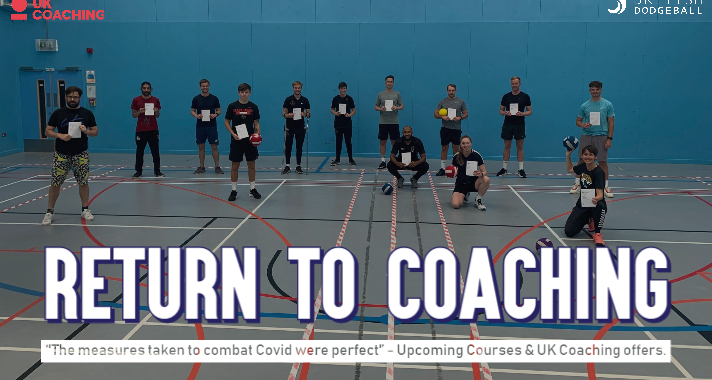 Return To Coaching – Upcoming Courses
As Dodgeball is returning to play and clubs are slowly making their way back to the court, it is only fitting that coaching, too, returns. Last Sunday British Dodgeball held a Level 2 Coaching Course in Enfield, lead by our Director of National Teams, Johnathan Rudland, which saw the qualification of 13 new Dodgeball Coaches. Health and safety guidelines were in place with British Dodgeball's Return To Play guidance and participants of the course stating that "the measures taken to combat Covid were perfect".
John Rudland had this to say:
"Delivering face to face coaching courses was a daunting thought having not delivered one for 4 months due to Covid-19, but the measures put in place created a safe environment for all. We delivered the content as before but with all our return to play recommendations allowing coaches to safely plan, deliver and take part fully in the course while gaining the knowledge on how to coach dodgeball. The coaches sanitised their hands regularly between coaching sessions and equipment sharing was kept to an absolute minimum with groups working with the same equipment all day through colour coded balls. I enjoyed the day and felt we delivered the same content just in a different way to keep participants safe. I would fully recommend any to sign up for a course today to develop their understanding of dodgeball and how it can be coached effectively".
SIGN-UP FOR COACHING COURSES:
We have plenty of upcoming Level 2 Coaching Courses still available for sign-up with the closest being 27th Sept. in Stafford, 10th Oct. in Manchester and 7th Nov. in Brighton! Sign-up here.
You can get a 50% discount on your Coaching Course if you sign up to our Coaches Membership which also gives you a 30% discount on our future Level 3 courses, access to our upcoming Coaching Newsletter, exclusive material coming soon and the ability to join UK Coaching at a discounted price!
Our Level 2 course is an 8 hour practical course that is perfect for anyone wishing to coach dodgeball within their community at clubs, universities, schools or colleges. You do not need to have completed the Level 1 course to sign up; participants will understand dodgeball rules and game play, core skills of the sport, coaching, variations and inclusive practices, refereeing, planning and delivery and evaluating and concluding. This qualification enables participants to deliver dodgeball sessions independently.
From January 2021, affiliated clubs and companies using coaches without a British Dodgeball Level 2/3 qualification to lead sessions will not be covered under our insurance. Should anyone who holds a UKDBA coaching certificate wish to complete a British Dodgeball coaching qualification, then they may do so with a 50% fee reduction upon providing proof of certification. To get this, please email a copy of your certificate to [email protected]

UK Coaching offers opportunities to help coaches return to coaching confidently and works to: develop your abilities as a Dodgeball Coach, Build Rapport, Develop Mindsets, Support Differing Needs and Ensure Welfare & Safety. For more information on our partnership with UK Coaching and the opportunities available to you, please click here.
Thank you for your time and if you have any questions or queries about our Coaching resources or any other matter, please do not hesitate to contact us at [email protected], or for any questions or issues with our memberships, please email [email protected]