The Dodgeball Centre – Hartlepool Mavericks Make History
On 19th April 2021, the UK's first dodgeball dedicated sports centre opened its doors for the first time; over 3 years of planning and work, the Hartlepool Maverick's welcomed the UK to The Dodgeball Centre, with the aim of seeing an "increased uptake of people playing dodgeball and to create a legacy of dodgeball" in the area. This week, we spoke to Mavericks' legends, Stephanie Robson and Lucinda Stott, to learn the story of The Dodgeball Centre and to get an understanding of what is to come. We hope that their story, and the fruition of the first dodgeball dedicated centre, will inspire other clubs around the UK. Continue reading below.
The Hartlepool Mavericks found that their club was growing but were unable to "expand the number of sessions in the place we were using, so we looked to develop something of our own", and thus, the inspiration for The Dodgeball Centre was born. Unlike sports such as Football who have actual centres made for clubs, dodgeball is still a growing sport and no such facilities had existed for our sport, until now. Around the UK, dodgeball clubs are reliant on booking weekly sessions at public sport centres, limiting the amount of sessions clubs can run, in turn, limiting the amount of new members who can join. Mavericks therefore decided that the only way to match and sustain the growth of their club, was by making history, and building the UK's first dodgeball dedicated centre.
When asked about how the process began, Lucinda revealed that "It started with an idea and then spending a lot of time searching for a venue that we could just move into but nothing was suitable. We then found an empty unit with potential and so discussions started" and that "having an experienced business developer as part of our committee who helped secure leases, funding and grants over the 3 year process" was a vital component to the project's success.
But it was not without it's challenges as "apart from trying to do this as the pandemic hit and then throughout the pandemic we also had some unexpected costs such as having to have a fresh air system installed and comply with legal governance". With knowledge of what challenges can appear, we asked what advise would Steph, Lucinda and the Mavericks give to another club who were looking to create their own centre? "Don't expect it to happen quickly! This took us 3 years to get to where we are now and it's certainly a long term vision/project. There will always be something unexpected that comes along".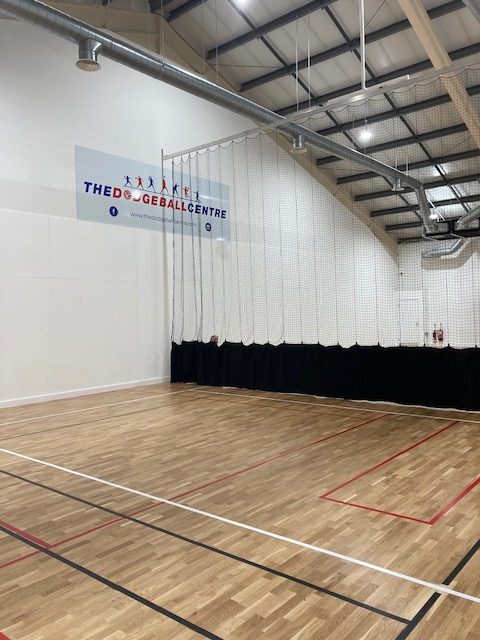 However, the time and effort was more than worth it, as Steph highlighted her favourite part of the operation was "walking around the centre and seeing the vision come to life and knowing we have achieved something that is a UK first.". After renovating and completely transforming a previously dull building, The Dodgeball Centre was born and ready. A home for the Mavericks, and a vision for the future of Dodgeball in the UK.
What sessions are available?
The Dodgeball Centre's doors have been open for almost a month now, welcoming anyone aged 3 and above, whilst running the following sessions: Dodgytotts (age 3/4), U7's, U9's, U11's, U13's, U15's, U17's. They will be reopening adults and women's shortly, following the knowledge that Adult dodgeball can return from May 17th! To learn more about the sessions available, you can find them on Facebook: The Dodgeball Centre
Additionally, Lucinda highlighted that the Hartlepool Mavericks "are working to provide sessions for adults and children with learning disabilities creating community links with our Special Education School and Centre For Independent living as well as a playgroup session".
Having successfully launched The Dodgeball Centre, what is next for our friends in Hartlepool?
"We are recruiting more coaches through providing British Dodgeball coaching courses and are introducing Foam-ball sessions with an international player. We've now almost achieved Phase 1 of our project and love the busy, noisy centre it's become. Adult dodgeball and fitness returning soon will complete this part. Phase 2 will soon see the opening of our mezzanine floor with community cafe and rehabilitation rooms for both paediatric and adult sports injuries. Phase 3 is still under lock and key!!".
With a final message that although they are "quite far from many other clubs, if any clubs would like to come and play some friendly games we would be more than happy to accommodate this", stating that Hartlepool Mavericks "love to welcome visitors anytime", just get in touch via [email protected]
Thank you to Lucinda and Steph for taking the time to talk to us and congratulations to the entire team at Hartlepool Mavericks. What you have achieved is nothing short of incredible, worthy of all the recognition we can give you, and we can not wait to see what happens next.