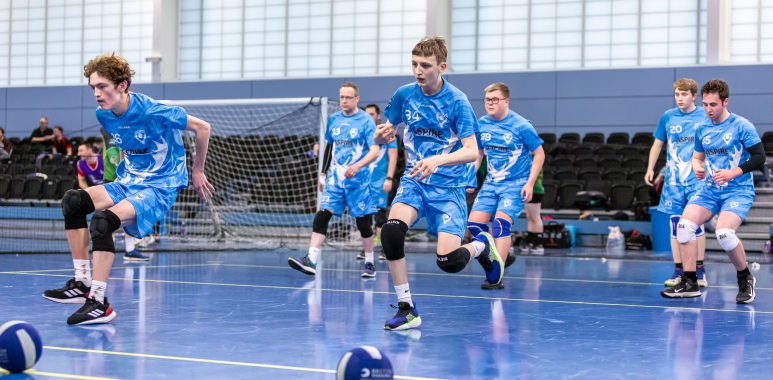 The future of dodgeball is now! (21/11/2022)
Dodgeball is growing everyday in the UK, across all aspects of the sport, from the amount of Universities competing in BUCS Leagues to the 8,000+ students who have been educated by our courses. But one of the best illustrations of growth is the development of junior players expanding into the Adult Regional & National Leagues, with Hartlepool Mavericks being a perfect example of this.
There are currently 11 players from Hartlepool's U17's playing in adult leagues, ranging from age 14-16 with an average age of just 15 years; 9 of them play in the North East Regional League, with one team made up entirely of U17's and U15's, playing against adult & university teams such as Eden Eagles and York University! Hartlepool entered the junior players into the adult regional league after it was announced that there was not going to be an U17s league this year. This was largely due to last seasons players moving on to adult National Leagues.
One of the Maverick teams is largely comprised of men's players who are joined by a handful of U17s, allowing them to develop by playing alongside their adult counterparts. Whilst the second team is solely made up by U17s & U15s, who through their experience in Junior Leagues, are clearly more than ready to face the challenge of playing against older competition as they currently sit 1st and 3rd in the League – with Hartlepool Mavericks 2 currently undefeated with a 5/0 record! This is an amazing feat and we hope the Mavericks success demonstrates to other junior teams that age really is just a number.
There are five U17 Mavericks playing in the English National Men's League 3 & Women's League 1, with even more due to make their debut throughout the season. They play alongside seven other adults, three of whom have only just moved out of the U17 league this season. Hartlepool want their junior players to be "recognised and respected by other teams" as they have "earned [their] place in the adult dodgeball community" and they are proving just that. The women's team sit in 3rd place after Round 2 with a record of 3 wins and 1 loss, more than demonstrating their ability and capability of pushing for promotion into the Women's Super League! The girls are joined on court by junior coaches Lucie and Steph who "started the ladies team a year or two before Covid to allow some of the younger players to continue playing when they moved out of the oldest junior age group". British Dodgeball are thrilled to see this kind of development from Hartlepool as their juniors follow the natural progression into the Adult National Leagues, setting the perfect example for other Junior Clubs. Junior coach & women's player, Lucie, gave the perfect answer as to why they moved their U17s into adult leagues:
"I felt if we wanted to retain U15 and U17 players, playing in the adult league was crucial, as at this age they are developing physically and are agile. 2 minute sets for 7 minutes is not always enough for them. They get more time on court playing in adult leagues giving them more opportunity to learn and practice their skills and tactics."
U17s player Mya, had her first experience of Women's League 1 and although she was "nervous beforehand and sometimes it was a bit scary", she really enjoyed playing and was "really happy to have made some catches and to have got a few hits". Mya stated that it "felt good" to help her team win both their games!
The Men's team are currently in 5th place in Men's League 3, with a record of 1 in and 3 losses. But the U17s do not mind this as when one player was asked about playing in Nationals against adult teams, he said "it was so much better. It was so much fun, more intense and competitive". When asked why they find it so much better, we got an overwhelming amount of responses from the U15s & U17s stating that "they enjoyed playing longer games, playing and learning from experienced players/teams and feeling challenged". The Mavericks accept the challenge of National Leagues and feel that it is making them "better players". This type of attitude is fundamental to Hartlepool's success as a club, as even if they are not winning, they accept that they are being challenged and appreciate that losing is the best way to learn and "see the team improve"; therefore, the best way for their U15s & U17s to grow as dodgeballers, is to jump in the deep end and face the higher level of competition that Regional Leagues & National Leagues offer. But for some players, the dream doesn't stop there: Matthew, Finley, Logen, Ewan and Jack have all said they "would love to be part of the England set up".
Hartlepool are hoping that more of their juniors will follow the path set out by their U15s & U17s, and "continue to play and take part in adult regional and national leagues". With over 130 Junior players in the club, ranging from the ages of 3-18, Hartlepool Mavericks are sure to start their era of adult dodgeball in the many years to come! We hope that in sharing the story of Hartlepool Mavericks (and clubs such as Wilmslow Wasps & Leicester Mustangs), more Junior Clubs will begin to view Adult Regional Leagues & National Leagues as the natural progression for their players, and that with them, the future of dodgeball is now.
To learn more about getting your juniors involved in adult dodgeball, please contact hello@britishdodgeball.com.
Thank you to the Mavericks for sitting down with us and good luck with the rest of the season!
Satellite Clubs – Leeds & York Dodge
Leeds Dodge members, Nick Garland & Megan McGowan (with the help of Jess & Ted Goshawk-Dumbrell) are creating a satellite club in York through British Dodgeball's #ComeJoinIn Funding. Meg explained that "many members of Leeds Dodge travel from afar and the rising costs of travel limit the amount of sessions they can attend". Thus, they are creating a new club to attract players from the North East and double the opportunities that current Leeds Dodge members have to train!
Nick & Meg are keen to combine the University of York Dodgeball Club, which they help run, with the Leeds Dodge satellite club. This will heighten the level of training and hopefully encourage more students into regional dodgeball.
Using CJI Funding, everything apart from the venue is in place, and they are eager to get started by the new year!
Dodgemark Accredited clubs
Dodgemark has been set up in order to provide a kitemark accreditation to help clubs have strong procedures and systems in place for safe, engaging dodgeball delivery in their communities.
Stafford Raptors, one of our Dodgemark clubs, stated that "the application process was simple with BD's guidance and the accreditation has helped the sustainability and growth of our club".
We are running a Club Support: Dodgemark Accreditation Webinar on the 24th November! Sign-up here. For more information about Dodgemark, look at our Dodgemark Accreditation Guide.
Some Dodge Things
Help us improve the standard of refereeing at our events by completing our Referee Feedback Form.
School Competitions are well underway and we are always eager to have members of dodgeball clubs volunteer at these events to help promote & develop your club. Email alice@britishdodgeball.com for more information.
England Lions Dodgeball are looking to recruit some new coaches for the 22/23 season! Learn more here.
FREE Safeguarding in Sport online course. Sign-up here.
Got something you want to shout out to the dodgeball community in the next newsletter? Let me know by dropping me an email at alex.media@britishdodgeball.com.