The Return of Regional League (General Newsletter 01/02/2022)
We're back! On Sunday the 23rd of Jan, our second set of regional leagues for the season got underway, with four out of six of the leagues hosting their first fixtures.
In both Southern leagues, Canterbury Crocs put in a huge shift, earning them top of the table in the men's with two wins. "We are looking forward to this regional league and the opportunity to play against some new teams. We are really happy with our first two results – we know we've still got some hard games to go but have our eyes on the club's first bit of silverware," says James Owen, Canterbury men's captain. And their women's side isn't looking too shabby either: with a win and a draw earning them second spot in their league, just underneath the mighty London Storm. "We are so happy that BD has introduced a women's league allowing our girls to play more regularly and get a taste for the competitive side of the game, and we can't wait to see how the season goes!" says Sarah Krauspe, Canterbury women's captain.
The Midlands league is certainly the closest fought so far, with Stafford Raptors taking the lead over DMU lions on set difference alone. Both teams earned a win, before drawing against each other. This league sees four universities join two community teams, with teams from Manchester, Birmingham, Bangor, and De Montfort University facing off stalwarts Derby Phantoms and Stafford.
Up in the North East, York University and Leeds Owls have taken early leads (leeds?), with York University taking the edge with two wins and a draw. "It was a brilliant performance by the team and gave us a lot to build on in the coming games, it was great to see so many other developing teams at the matches too," says Peter Danks, captain and president of York Uni Dodgeball. Their vice-president, Megan McGowan, added: "It was also fantastic to see so many women play! The tournament was a great start to what is going to be a busy year for York Wolves."
The North East also saw the first-ever competitive fixture for the Uni of Leeds Dodgeball Society. The club started back in 2019 as a women's only club and has subsequently evolved into a mixed-gender team. "Round one of the North East Regional League was a huge learning experience for us. This was our first competitive fixture as a team, and all other clubs were super welcoming. We were able to go home winning a number of sets and applied pressure to some formidable teams. We are looking forward to the upcoming fixtures as we continue to develop as a group," says Honey Butterworth, president of the society.
Congratulations to all the teams so far, and a warm welcome to the Uni of Leeds Dodgeball Society!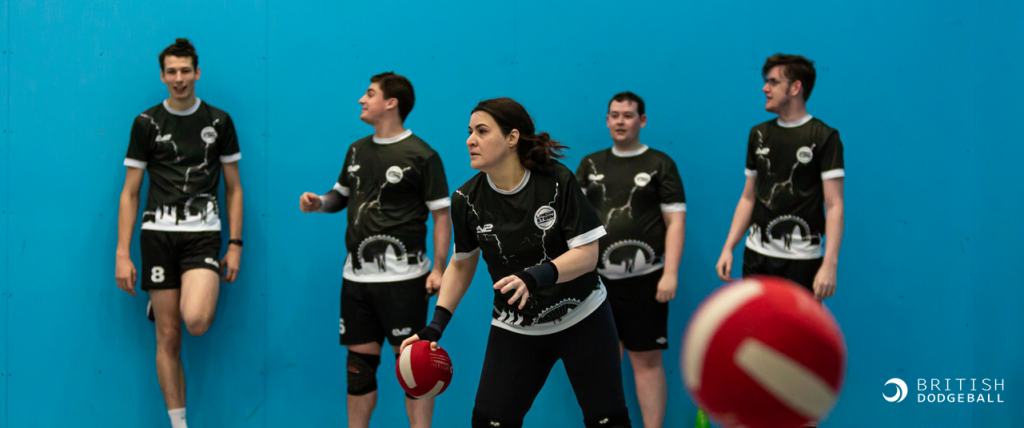 2022 Dodgeball Survey
Who doesn't love a survey?
Players, coaches, teachers, parents, volunteers – anyone who has any level of involvement in either playing or organising dodgeball events – are all invited to fill out our yearly survey on the state of dodgeball in the UK! You don't have to be registered with British Dodgeball, nor from a club that is registered with us. You just have to be somehow involved with the dodging, dipping, ducking, diving, of day-to-day dodgeball.
It took me exactly 7 minutes 46 seconds to fill out, and I talk a lot, so I guarantee it won't take much time out of your day. Fill out the 2022 survey, and if you beat my time, feel free to gloat to me in my inbox.
School Championships
We've had a trio of successful school championships events in the last few weeks. Congratulations to Stanhope A, who won the Tyne & Wear Championship; Swanmead Community School, who won the South Somerset Championship; and Paget Primary School, who won the Birmingham Championship. Special mentions to NCEA Bishop's, Marchant-Holliday, and Topcliffe, who won the Sportsmanship Awards in each of these competitions too! You can still get your school involved in our dodgeball championships: signups for our remaining events are available here.
Back at the start of January, the year got underway with the Yorkshire Schools Championship. You can catch up on how that day went with this video from our media officer, Alex Such.
Wales Squad Announcement
The Wales Dragons have announced their 2022 squad, who will now be focusing on training for the European Championships, due to be held later this year in Drachten, the Netherlands.
This talented group of players includes twelve players who will be donning the scales for the first time.
Best of luck to the squad: you can find the full team announcement here.
Need more of a dodgeball fix? Check out content from across the dodgeball world:
2 minutes: Matt Wiehl broke down the "catch of the season (so far)" by Jamie Hughes – what made it so impressive, impactful, and just altogether cool.
5 minutes: London Knights are one of the newer clubs to break onto the dodgeball scene, with some impressive scores in regional leagues. Find out how they got their start in this interview from House of Dodge.
1 hour: The month of intense national league fixtures is now at an end. Ahead of the final fixtures of the month, the Neutral Zone podcast gave their thoughts on where the teams are at and what they need for the rest of the season.