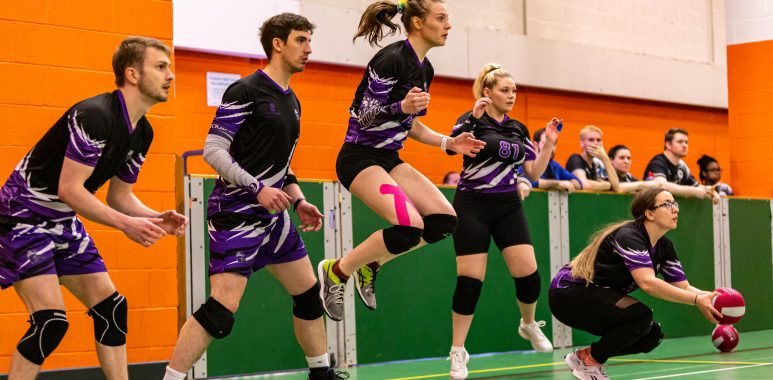 The Importance of Mixed Dodgeball! (22/02/2023)
Dodgeball, whether played in its cloth or foam form, is a sport played with 6 player's per team, by both male and females. However, unlike a lot of other sports, men and women will often train and play, with and against each other. Mixed Dodgeball is a vital component of our sport, played at the ground level all the way up to the World Championships; today, we would like to put it in the spotlight.
For some clubs, especially those newly formed and developing, it isn't possible for them to field a women's team due to a lack of players; thus, mixed dodgeball serves as the only way for women to get on court. This was the case for Canterbury Crocodiles, who's women's players entered into mixed events and played in men's league 3 last season.
Playing in mixed events and with the men's team has enabled the crocodiles to grow and develop their own women's team, who are now competing in the English Women's League 1 at St. Georges Park! Despite this, the Crocs continue to play mixed teams in men's events as they "choose [their] players based on merit regardless of gender" and their women's players more than hold their own. They find that mixed sessions make things more "competitive" and that they create a "different dynamic which is beneficial to the whole club". Canterbury are the perfect example of how mixed dodgeball is vital to the growth of women's teams and the development of clubs on a whole.
Many of our members begin playing dodgeball at University, where training sessions are often run as mixed sessions. This is sometimes out of necessity, either due to a lack of female players or due to a lack of available training time & or space. However, this actually serves as a benefit to University Clubs. The University of Warwick Warriors revealed that their "biggest challenge" is "welcoming new players and developing them in time for opens and BUCS league". Therefore, running their training as mixed sessions "helps players become confident in playing alongside and against a wide number of players and playing styles".
Further to this, mixed competitions themselves, act as a great way to introduce university players to community level dodgeball, which is "often faster paced & a step up from university level". Warwick Warriors have competed in both university mixed opens & our national Mixed Leagues, currently sitting in 5th place in the North Mixed League 1. Not shying away from the challenge, the Warriors utilise Mixed Dodgeball as a tool to develop their players in a faster way.
Insight from Champions.
Whilst community and university clubs have given us a great insight into the importance of mixed dodgeball, who better to ask than the 2022 European Mixed Champions, Northern Ireland Knights! Back in July, the NI Knights defeated Austria 15-7 in the European Championship Mixed Finals. What lead the Knights to being such a strong Mixed Team? Perhaps because as Lead Coach, Adam Hill, puts it:
"In Northern Ireland, mixed dodgeball is at the very core of our game".
Adam revealed that "Before the formation of the first women's only teams, we only had mixed leagues" which has led to the vast majority of players in NI having "learnt their trade through mixed dodgeball". However, despite the women's league that is now in place, NI Men's Super League teams will often have women's players registered (See an example here as Ballyhackamore Barbarians face off against Kapow Dodgeball). This is because, as Adam explained, "it's no longer about making up numbers and much more that the girls can punch it with the best of the best in the men's league on top of playing their women's fixtures on the same day". This routine of play is clearly leading to a lot of success on the international level.
Hill stated that, as a coach for the NI Mixed Squad, he is very "grateful" for the "groundwork at club level" that came before him. He also added that "an important part of our European success in mixed coming so quickly after we (Wai-Sun Wong and I) took the coaching role is due to this".
Whilst Northern Ireland has cemented the fact that mixed dodgeball is crucial to the development of players and teams, Adam noted that: "competitive mixed dodgeball is its own game. Coming into it playing just like you do in men's or women's dodgeball will only get you so far". That is why NI have developed their own "mindset" and "style" for their mixed team, separate from the men's and women's teams. And that is why, in the space of 2 European Championships, the NI Knights have gone from 7th/8th to CHAMPIONS!
NEW Mixed Leagues!
2023 has already and will continue to see many exciting developments in our sport, with some huge growth in Mixed Leagues!
England has increased from 2 leagues last year to a North & South Super League with an additional North League 1. More teams from more regions are competing in thrilling mixed dodgeball matches.
But arguably even more excitingly, next month (March), will see the launch of the first ever official Northern Ireland Mixed League!!! We can't wait to see this league take place and we have already got the popcorn ready for some entertaining matches!
European Champion, Adam Hill, has this to say: "we are all very excited for our first official Northern Ireland Mixed League to launch in March this year! With all of the local clubs taking part I have no doubt that it will develop mixed dodgeball even further in the seasons to come!"
Collaborative efforts to support School Dodgeball!
This year sees the launch of our first Secondary School Championships pathway! We have 6 events taking place across England this season. To host these events we shall be receiving the generous support of local colleges, university teams and community clubs to deliver the best possible events. We are very grateful to those who are already signed-up to help but would welcome anymore: If you'd like to find out how you can support these events email james@britishdodgeball.com
Over 100 teachers have received CPD through our online introduction to officiating course + introduction to school dodgeball course that is included in the entry fee for the events. There are 57 schools who have registered interest this season and we can't wait to get started in March!
The Dodgeball Zone
Express your Interest in our next Level 3 Coaching Course! To register your interest, please email aden@britishdodgeball.com
Sign-up to our next Club Support Webinar: Budgeting & Good Financial Practice. When = Wednesday 29th March 2023.
The Dodgeball Survey 2023 – The Survey has now closed and we will share the results with you in due time.
School Competitions are well underway and we are always eager to have members of dodgeball clubs volunteer at these events to help promote & develop your club. Email alice@britishdodgeball.com for more information.
Got something you want to shout out to the dodgeball community in the next newsletter? Let us know by dropping us an email at hello@britishdodgeball.com.